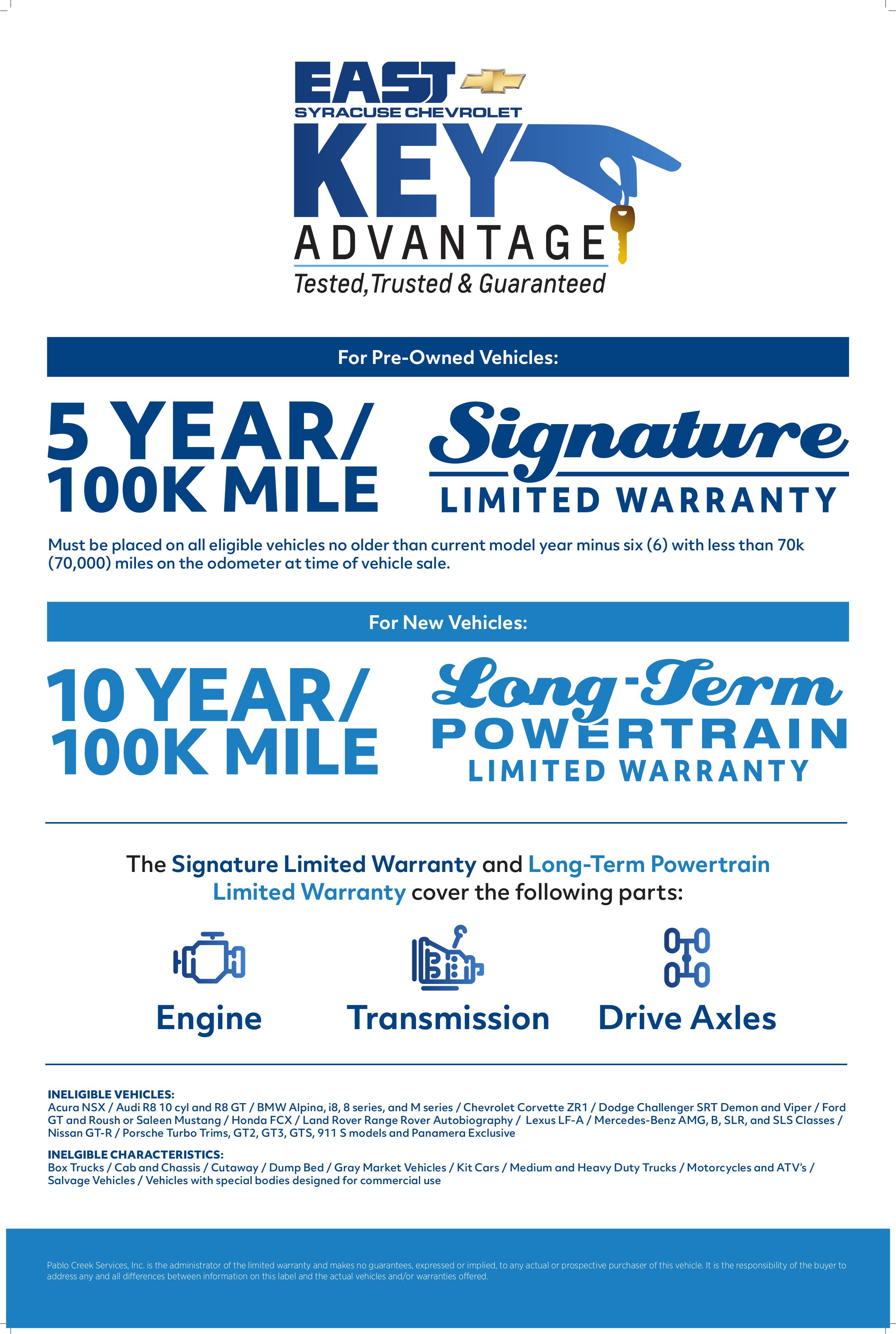 LEARN MORE ABOUT THE KEY ADVANTAGE PROGRAM THAT EAST SYRACUSE CHEVROLET OFFERS
Here at East Syracuse Chevrolet, we put time and effort into ensuring you have the best of the best available to you. We are proud to serve drivers from Syracuse to Liverpool, NY, and are happy to offer our Key Advantage program. This program provides additional benefits to pre-owned vehicles as well as new vehicles. This program provides you with more protection and peace of mind. To learn more, continue reading.
What Does the Key Advantage Program Offer?
When you purchase a pre-owned model that is no older than six years with less than 80,000 miles on it, you'll be offered a five year/100K mile signature limited time warranty! When you purchase a new vehicle, you'll be provided a ten year/100K mile long-term limited powertrain warranty.
The Signature Limited Warranty and Long-Term Powertrain Limited Warranty cover the included parts:
• Engine
• Transmission
• Drive Axles
We know that while living in Syracuse, your car goes through a lot of wear and tear even after the first year. We live where winters are brutal, and springs are muddy. With these warranties, we make it easy for you to keep your vehicle running like new.
When you drive a working vehicle, you drive a safe car, keeping everyone on the road in Liverpool, NY, prepared and confident. We are here to assist you when your engine, transmission, or drive axles need replacing or a toon-up!
If you have a question regarding our Key Advantage program, we encourage you to give us a call or visit our dealership. If there is a specific model that you are hoping the warranty will cover, you can find out more information on our website!
We hope you choose your local Easy Syracuse Chevrolet for your next service appointment or car purchase!